abi Receives 2009 Patrick Jackson Award
The abi is honored to be the recipient of the 2009 Patrick Jackson Award presented by The Yankee Chapter Public Relations Society of America. The award, presented on June 18, 2009 at an event held at the Red River Theatre in Concord, New Hampshire, recognizes an individual or organization that demonstrates exemplary use of public relations.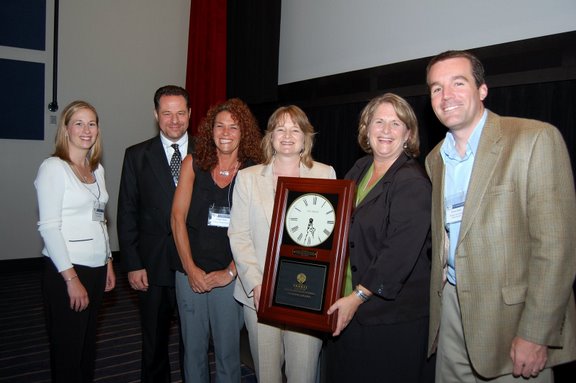 PRSA Patrick Jackson Award June 18 2009. Pictured above: Jennifer English, PRSA Past President; David Bellman, abi Board of Directors; Jennifer Bush, abi Office Manager; Michele Petersen, abi Vice President; Julie Gustafson, abi President & CEO; and Kevin Smith, PRSA Past President
The abi now offers an Affiliate Member Program for business owners who are looking for a professional work environment on a part-time basis. Affiliate members schedule office hours or meeting/conference rooms as needed.
The Program is geared towards people who are operating a home-based business and require the benefits of an outside office, but are not in a position to take on full-time expenses. Other candidates for the program include sales professionals, financial planners and other service providers who require meeting and conference rooms on a regular basis.
Members choose from one of two program options, based on their needs, with monthly costs ranging from $70 to $100. In addition to the use of a furnished office, the price includes: use of a personal computer and/or laptop, wired/wireless internet, LCD projector for use in the abi's conference room, and notary services. Participants can exercise the option of a business mailing address, and have access to shared office equipment and kitchen facilities.