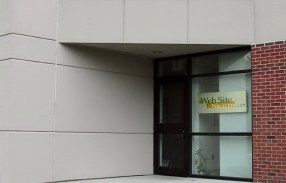 The value and benefits of student internships and School-to-Work programs are well known. Providing students with a chance to apply classroom theory and knowledge in a real-world business environment is an invaluable experience. However, because these programs are necessarily conducted at local businesses, transportation to and from the job site is often a major challenge. The Business Incubator at the Region 14 Applied Technology Center solves that problem and, at the same time, provides a wonderful connection between the school and the local business community.
What is a Business Incubator?  Perhaps the best answer to that question can be found in the following editorial from New Hampshire Business Review (June 16, 2000).
A good idea that works:
A unique startup with student employees flourishes
The Applied Technology Center at ConVal High School in Peterborough looks like one of those good ideas that's working — a very gratifying occurrence in business.
In other programs, the students go to a business location for training or the business instructors come to the school.  At ConVal, the business literally moves, rent-free, into a special section of the school.  And it's not a regular business.  It's a startup, and the section of the school it occupies is a business incubator.  Probably there is no better way to learn the vagaries and challenges of making a business function than being part of a startup.
As part of their schooling, the students become employees of the incubator company.  Susan O'Neil's company,
Web Site Publicity
, moved into ConVal last July [1999], and she has seen her business grow to 16 employees.  Her search engine positioning service now has 100 clients, and soon she will be moving on to larger commercial space.
The students, who work from 10 to 20 hours a week, have not only actually helped her start the business, they bring something special to the venture.  As O'Neil describes it, they approach technology with a fearlessness.   They speak a different language than `ancient' people like me.
As one student says, I can see the effects of my contributions.  What you do means something to the team.  In class it's more individual-you're going for the A.  Here what you do or don't do affects others.   She has been accepted to study computer science at Harvard this summer.
Another [student] says working at a business is different from the classroom because you can apply what you learn immediately.  It's one thing to hand something in to a teacher.  It's another to have a client call because you made a mistake.  It's not busy work.  It's important.
Clearly this is not a concept that can be duplicated across the state.  It is something special created by people with imagination, and Chet Bowles, director of ConVal's Applied Technology Center, and those with whom he works, are to be commended.