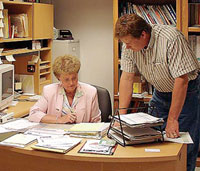 A small business incubator is designed to accelerate the growth of entrepreneurial companies through an array of support services. Our main goal is to produce successful companies that will leave our facility due to growth and remain financially viable.
Incubation is a proven model: it provides entrepreneurs with the expertise, network and tools they need to make their ventures successful. A high percentage of small businesses fail every year: the National Business Incubator Association reports that 87 percent of all firms that graduated from their incubators are still in business.
Business incubators nurture young firms, helping them survive and grow during the start-up period when they are most vulnerable. Incubators provide hands-on management assistance, access to financing and business support services. They also offer entrepreneurial firms shared offices services, access to equipment, flexible leases and expandable space-all under one roof.
Serious about growing your business?
Think BTC…Solutions for Growing Businesses
Galesburg Business and Technology Center – 2051 Tom L. Wilson Boulevard – Galesburg, IL 61401
Ph: 309-345-3501 – Fax: 309-345-3526