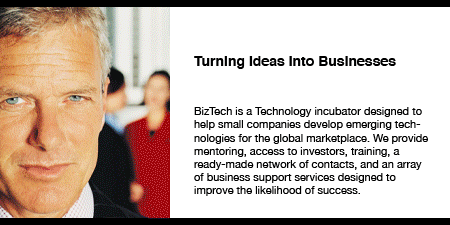 BizTech's Mentoring Service Provider Network
Mentoring Service Providers are experts in their discipline, who volunteer their time and talents to assit BizTech client companies in the areas of human resources, legal issues, sales, marketing, and public relations.
BizTech's Venture Catalyst Program
Venture Catalysts are entrepreneurs who have successfully built a business, who have exited their role as the entrepreneur in that business, and who are ready to become involved in building more new businesses. Venture Catalysts commit a portion of their time to be available to BizTech's client entrepreneurs, in one-on-one or group sessions, where problems are discussed, plans are made, contacts are identified, and all the myriad issues faced by young companies are dealt with.
Ron Klein, CEO of Belzon and National SBA 2008 Small Business Advocate of the Year finalist presents at BizTech Book Club. His book selection: The Halo Effect…and the Eight Other Business Delusions That Deceive Managers, by Phil Rosenzweig.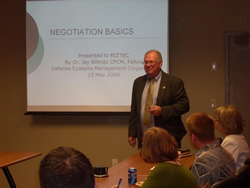 Dr. Jay Billings of Defense Contract Management Corp. presents an educational session on the topic of Negotiation Skills and Strategies at BizTech's CEO Roundtable luncheon.
Business Technology Development Center, Inc.
515 Sparkman Drive
Huntsville, AL 35816
Email BizTech
Phone: 256.704.6000
Fax: 256.704.6002