"In the middle of difficulty lies opportunity."
– Albert Einstein

---
Student no mug
By SARAH CODDINGTON – North Shore Times
Last updated 05:00 13/10/2009
Two Massey University students have proved to have the best innovative business idea on the Albany campus.
---
Unique partnership to take Massey research global
Massey University today announced a groundbreaking partnership that will dramatically increase the commercial potential of research carried out at the University.
---
GO! Competition unleashes entrepreneurial skills
Business to Business Tuesday, 06 October 2009
The Business Student Group at Massey University Albany has encouraged students to unleash the entrepreneur from within. The GO! Competition, aiming to find the best innovative business idea/product based on a genuine gap or opportunity, held the finals recently at the Albany campus.
---
Start-up highlight at TechEd 2009
(Computerworld September 2009)
Five start-ups put themselves in the spotlight at this year's conference and pitched for the ICT innovators contest.
Two companies are from the e-centre at Massey University, Albany.
Centeros CEO James Crossley.
www.centeros.com
e-centre Virtual Resident
and
KernMobile, Director Kerry Connors
www.kernmobile.com
…
Incubators NZ, annual general meeting was held at the e-centre
Incubators New Zealand's role is to lead this young industry's development and ensure today's start-up companies become tomorrow's business successes.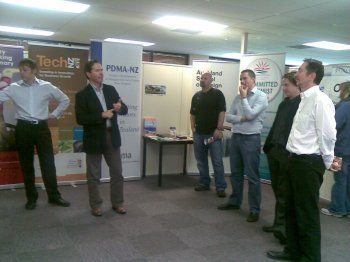 Students can test business skills
By Jodeal Cadacio
Massey University at Albany and e-centre have launched an internship programme for students.
---
e-centre Opportunity For Massey University Business Entrepreneurship Graduates
e-centre ltd and Massey University College of Business have launched an internship programme for outstanding Massey University Graduates in order to actively support the entrepreneurs of tomorrow.
The programme is aimed at students majoring in Entrepreneurship and began in June 2009 with the appointment of graduate student Sabrina Nagel.
---
Christine Nikiel: NZ Herald, April 2009
Health software developer dares to dream big
Precept Health (e-centre start-up company) hopes multi-million-dollar Malaysian deals will open the door to other Asian opportunities.
Precept Health, is a tiny start-up based on Auckland's North Shore.
In the intensive care unit at Temerloh, Malaysia's largest hospital, a stream of data is silently transferring from a patient to drug pumps, vital sign monitors, ventilators and other life support machines.
---
e-centre : enterprise, experience, excellence

The e-centre at Massey University's Albany campus nurtures and grows entrepreneurial technology companies.
The unique environment provides guidance and support during the early stage growth phase, before companies graduate into the North Shore business community. For all participants it is a tangible 'stake in the future'.
Precept Health takes big step into Malaysia
4:00AM Thursday Mar 12, 2009
By Helen Twose (read more at New Zealand Herald)
A North Shore software start-up (e-centre resident company) has beaten off the likes of Philips and GM to gain a toe-hold in the lucrative Asian market.
---
The trouble with noodles
Unlimited Magazine February 2009
Grace Xue's online venture whostolemymoney.com (e-centre virtual company) is all about control of your personal spending. And that's something she learned the hard way.
---
TUANZ ICT Innovator of the Year Award
Grace Xue, Who Stole My Money
Judges Comments:
The Judges were provided with a number of Innovative projects from entrants who have considerable skills as Innovators. Pulling together a number of languages and technologies, the winner is Grace Xue Who Stole My Money.

---
What are Incubators Business Incubators?
They are facilities designed to assist businesses to become established and profitable during their start-up phase.
---

Do you have an innovative idea that you would like to turn into a business venture?
Cluster Networking
Please note the following dates in your diary (last) Thursday of the month:
If you would like to nominate yourself or your organisation as a guest speaker, please either reply to this email or contact the Cluster Events Manager at events@aucklandict.org.nz
Build your Business
Knowledge base of all the resources a start-up business needs.
CMCTEC
CMC Technology Export Centre
Gateway to India


Imagine if you could spend less than one hour answering some critical questions about your business and then be given a detailed analysis of your business performance, areas of risk and constraints to growth. Well, now you can with Excellerator.
Business Incubator to grow tech companies
Here at the e-centre, we offer a great network environment, with the opportunity to be mentored by experienced entrepreneurs and have added credibility behind you.