Mission statement: Transforming lives worldwide through exceptional trading and investing education.
Our Vision: We will be the premier financial education community for people anywhere in the world who seek an enriched life style.
History of Online Trading Academy
Online Trading Academy started educating students in the art of trading in June, 1997. As the leading trading school in the world, we now offer state-of-the-art teaching facilities and professional instruction, as well as a wide array of beneficial home study materials. We offer a spectrum of trading styles and instruments, from Short Term Trading, Swing Trading, Position Trading, and Investment Theory for Stocks, Exchange Traded Funds, Options, Futures (Eminis & Commodities) and Currencies. We are committed to offering you the best in Financial Education!
Our training courses are geared toward individual investors or traders, novice or experienced, who want to learn how to use the same tools and professional trading techniques as the professional traders on Wall Street. These courses offer a complete education and training experience focusing on trading fundamentals, technical analysis, risk management, and highly-developed skills of execution for virtually any trading instrument.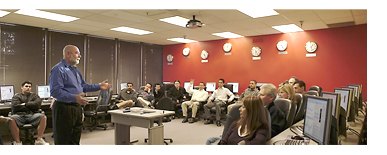 Once the mechanics of trading have been learned, graduates may opt to spend an additional training period in our virtual classroom called Extended Learning Track, an online learning experience which enables the student to choose the area of study that best fits their chosen trading style, asset class and learning objectives.
All of the classes we teach are fully reimbursed by our broker/dealer partners, so essentially you are taking our classes for free! And we are the only one in the world integrating live trading by the student in the class. We give you a "live" account, cover your commissions and losses because we believe the only way to learn is in the real trading environment, not just simulation.
We have developed a series of trading education CDs for home study, that can be used alone or in conjunction with our on-location courses.
Educational Excellence
In 1997, we built one of the largest trading floor in the country. Within 6 months, we had 180 traders who were transacting about 500 million dollars in trades per day. We had to develop an educational curriculum that was very unique and that would truly help the success of all the traders, beginners and experienced alike.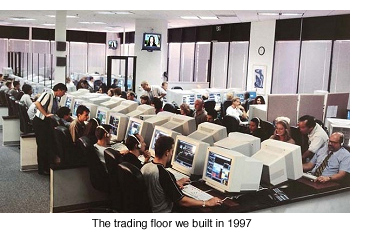 This education had to consider that many of these traders were trading our capital. This caused us to seek a team of some of the best traders in the country to help in the development of these unique strategies.
They were instrumental in making our trading floor the single largest electronic trading floor West of the Mississippi. Many have made their mark in our industry Fernando Gonzalez, respected trader, author, and newsletter writer, William Rhee, over a decade in trading and author, Kevin Green who recently headed up CyberTrader's educational needs, David Janti active trader and teacher, Toni Turner, eminent speaker, active trader, author of several trading books, Sean Kim who is now a Market Maker, Merlin Rothfeld who taught trading in Europe and was a Professor of Economics at the University of Ancona (and who has now returned to us as an instructor), Mike Mc Mahon, our Director of Education, whose varied financial past has brought multiple facets to our educational processes and many others whose contributions are the foundation of the finest trader education program in the industry.
Our standing list of instructors include some of those already mentioned but also: Roger Best, who trades, teaches, writes and mentors, and Adam Kaye, who teaches, trades, and mentors. We are lucky and proud to have such a fine cadre of professional traders who contributed their time, their knowledge and their passion for trading. This is the basis for our continued, growing commitment to excellence in education. We believe in Education First. For more information about all of our instructors.
It all started with one focus – making sure that our students succeed… and with that in mind, we set a new standard by being the only Trading Academy that actually provides trading capital to our students to confirm that they truly understand what we teach them. We not only allow our customer to come and take the class again for free for life, we encourage it. This is something that only a profoundly committed organization will do.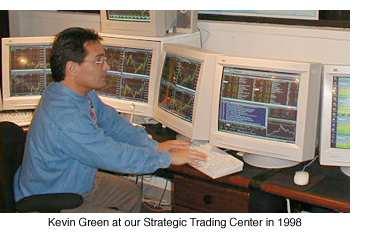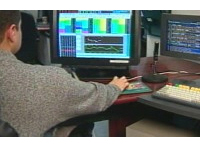 Today we are proud to say that we have trained thousands of students through our global network of Centers. Across the world, as Modern Electronic Market Access becomes available, our Centers will teach those who truly wish to learn the ways of the Market.
(Note: Online Trading Academy is a DBA of Newport Exchange Holdings, Inc., and together with its predecessor company has been in business since 1997.)